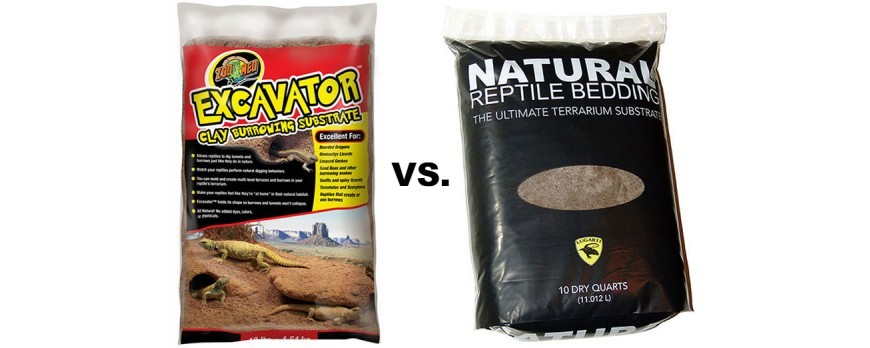 Excavator Clay vs. Natural Reptile Bedding
Lugarti's Natural Reptile Bedding (NRB) differs in many ways than Zoo Med's Excavator Clay;
You have to add water to use Excavator Clay, which gets very mess, very quickly. NRB comes ready to use out of the bag and is not messy at all.
You have to use tools (e.g. balloons) to mold and shape tunnels with Excavator Clay. No special tools are necessary with NRB. If you've ever built a sand castle then you will be able to mold and landscape a nice terrarium design for your reptile.
When Excavator Clay dries it get very hard, like concrete, making it almost impossible for most reptiles to burrow in it. And for reptiles that can burrow in it, burrows quickly collapse and crumble. When NRB dries it's lightweight and strong, and your animals can easily burrow in it and your burrows still hold up.
When you want to replace your bedding, you have to add water to Excavator - creating a huge mess again - and carefully take everything out being careful not to break your glass walls or bottom, as there are rocks in it. NRB is lightweight and not messy at all, so replacing it is very easy. NRB is also made with 100% Natural and Organic materials, so adding it to your garden will benefit your plants too!
Since Excavator Clay has many rocks and sand in it, it is not a safe choice for smaller animals as they can easily ingest these particles which can lead to impaction. NRB is all natural, ultra fine and packs very well. Because of this, any particles your animal happens to ingest during eating are easily digested and passed without any concern of impaction.
Excavator offers very little odor control. NRB is super absorbent and offers extremely good odor control.
Excavator is designed to be used after it has dried, as when it is wet it is muddy and messy. NRB can be kept moist 24/7 for tropical species or allowed to dry for desert species.
You cannot grow live plants directly in Excavator. NRB grows all live plants extremely well. Within just one week you will see roots flourishing in NRB.